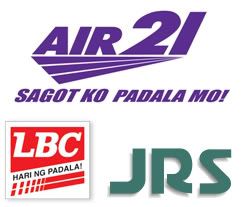 Courier services are a vital resource for many companies and individuals with local and global connections. From getting vital legal documents through to lawyers or customers to shipping samples and marketing materials, shipping items locally and globally as fast as possible is something that a large number of companies and individuals require.
For these reasons, domestic and international shipments can be quite expensive, especially when delivery time sensitive consignments overseas.
There are a wide variety of affordable options available such as LBC, Air 21 and the pioneer JRS Express. All of these providers offer a wide variety of services and costs. Some are stronger in some areas and weaker in others. For example LBC dominates in Luzon however is sometimes viewed to be weak in Mindanao. Air 21 however is often felt to be strong in VIsayas but not too good in Mindanao as well. JRS Express on the other hand is often felt to be too "makaluma" to many areas.
So which is much better, Air21, LBC or JRS Express? Help me decide.